Chimney Repair Flanders, NY 11901
Chimney Repair in Long Island: A Remedy For Clogged Chimneys
Chimney King offers top-notch chimney care services to ensure safety in Flanders, NY. All technicians are local firefighters who have had extensive training in all phases of chimney care and have many years of experience. We offer an honest, friendly service at an affordable price–all jobs are guaranteed for one year.
Leading Causes of Dirty Chimneys
There are two main reasons why chimneys become dirty: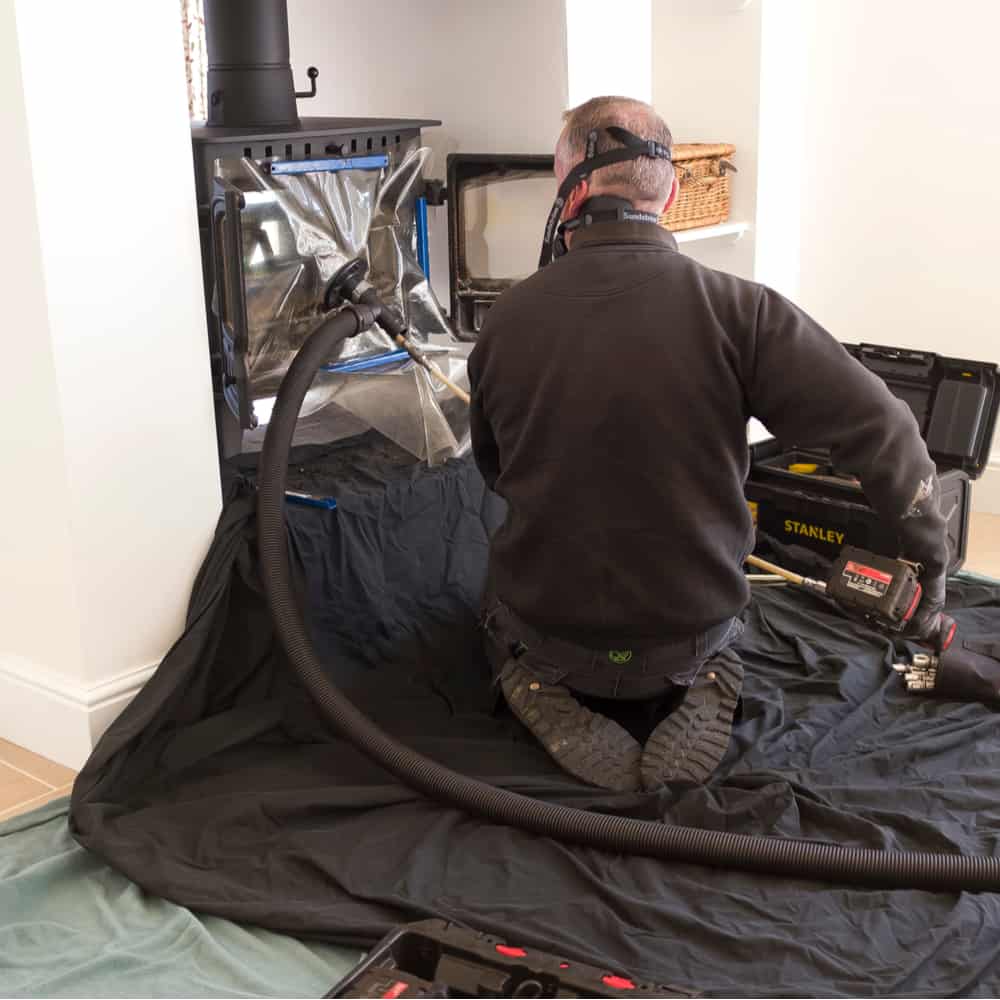 Creosote buildup. Your chimney is the pathway that allows smoke, gases, tar, unburned particles of wood – byproducts from combustion – to vacate your fireplace and travel up and out of your home. As these byproducts ascend the relatively cooler chimney and condensation develops, creosote is formed.
Obstructions. Learn about the types of obstructions that can lead to serious problems, such as dirt and debris from the outside getting into your chimney or even animals entering through the top of your chimney. Like creosote, these obstructions can cause a lot of trouble in your fireplace.
Protect Your Home with Routine Chimney Cleanings
Dirty chimneys can lead to serious problems, including:
Every year, nearly 23,000 chimney fires happen in the United States alone. The majority of the fires are caused by dirty chimneys.
Creosote is highly combustible. Any blocks that may be in your chimney – leaves, branches, animal nests – can also be flammable. If you're using a dirty or poorly maintained chimney to start a fire every day, you could easily light your chimney and your home on fire as well.
Dirty chimneys are responsible for thousands of cases of carbon monoxide poisoning each year. This can result in serious health problems and even death.
Smoke is highly corrosive and can do a lot of damage to the walls, flooring, and furniture in your house. This can result in costly repairs you may not be able to afford.
Dirty chimneys can result in an unwanted fire. We live by the saying "a clean chimney is a happy chimney," and we'll do everything we can to help you maintain yours.
The fourth step of the Chimney Sweep process is inspection. We'll thoroughly examine your chimney's interior, looking for any signs of damage. With your approval, we will make any necessary repairs – promptly, efficiently, and at a reasonable price.
Our team will go to great lengths to keep your house organized and tidy while we're cleaning your chimney. We'll scrub down the surrounding area, use brushes and vacuums to pick up any debris, vacuum the living space, and more. When you choose us for your chimney maintenance, repair, or cleaning needs, both you and your chimney will be happy with the service!
Why Should You Choose Chimney King as Your Flanders, NY Chimney Sweep?
There are a lot of chimney repair services in Flanders, but you should come to Chimney King. Our goal is simple: to provide complete safety for our customers and unparalleled customer service that exceeds expectations. The team has more than 30 years of experience, and we have the proven track record of success to back it up.
We're pleased to say that we offer the best prices in town. We also believe in fairness, which is why our property clean up services include a thorough exterior of your home and are priced for everyone's budget.
We're proud to be a part of the local community and humbled that so many Flanders residents have entrusted us with the responsibility to make their city safer.
Get a Free Suffolk County Chimney Cleaning Estimate Today!
If you need to find out why so many homeowners in varLocation trust us for chimney cleaning, give us a call. We're excited to offer you a free estimate. We'll do our best to meet or exceed all of your needs for chimney work, maintenance, and or repair. Just call 516-766-1666 today!
Useful links for Flanders, NY
Map of Flanders, NY
---
Here are some chimney-related links:
---
---
Frequently Asked Questions
A breaker could be loose, or a hot breaker is allowing current to flow between hot and neutral. Either issue should be inspected immediately by a qualified electrician.
Frequent breaker trips could be a sign that the circuit is being overloaded somewhere on the property. A wire, socket, or appliance could be overheating, which could eventually cause a fire
Frequent breaker trips could be a sign that the circuit is being overloaded somewhere on the property. A wire, socket, or appliance could be overheating, which could eventually cause a fire
We prioritize safety and customer satisfaction above all. Our professional and skilled electricians are always available to respond to electrical emergencies promptly, day or night.