Chimney Sweeps Aquebogue, NY 11931
What to Expect During a Chimney Inspection in Aquebogue, NY
Since 1982, the homeowners of Suffolk County have been counting on Chimney King for all of their chimney care needs. The fully licensed and insured Aquebogue, NY chimney sweeps at our locally owned and operated chimney company specialize in all aspects of chimney and fireplace maintenance and repair. Routine chimney cleaning, comprehensive fireplace and chimney inspections, chimney cap replacements, and so much more; just one call does it all! When you choose Chimney King, you can feel confident knowing that the best chimney company in Suffolk County will be on the job!
An Overview of Chimney Inspection Services in Aquebogue, NY
Who doesn't love cozying up in front of a roaring fire on a chilly winter night? A fireplace is a wonderful feature in your Suffolk County home. It generates affordable and reliable warmth, it creates a welcoming ambiance, and it adds to the aesthetic appeal of your interior design. Yes, a fireplace – and its accompanying chimney – certainly is a focal point and one of the most beloved features of your home. In order to fully enjoy all of the benefits that it provides, however, you need to make sure that the structure is properly maintained, and routine chimney inspections are a vital part of that maintenance. If you've never had a chimney inspection before, however, the thought of having one can seem a bit daunting. To help answer any questions and alleviate any concerns that you may have, the following is a quick overview of what you can expect when a Aquebogue, NY chimney sweep inspects your chimney.
Why do I need a chimney inspection?
With regular use and constant exposure to severe elements, your Suffolk County chimney experienced a lot of wear and tear. Fluctuating and extreme temperatures, moisture, the byproducts of combustion (creosote, soot, ash, smoke, etc.), wind, and even ground shifting are just some of the factors that can contribute to a chimney's wear-and-tear. After a while, exposure to such harsh conditions can damage the structure, rendering it unsafe to use.
Inspections are important because they can determine whether or not your fireplace is fit to use. A Aquebogue, NY chimney sweep will perform a comprehensive inspection, and if any issues are spotted, they'll let you know so that you can make arrangements to have them corrected.
Why are chimney inspections important?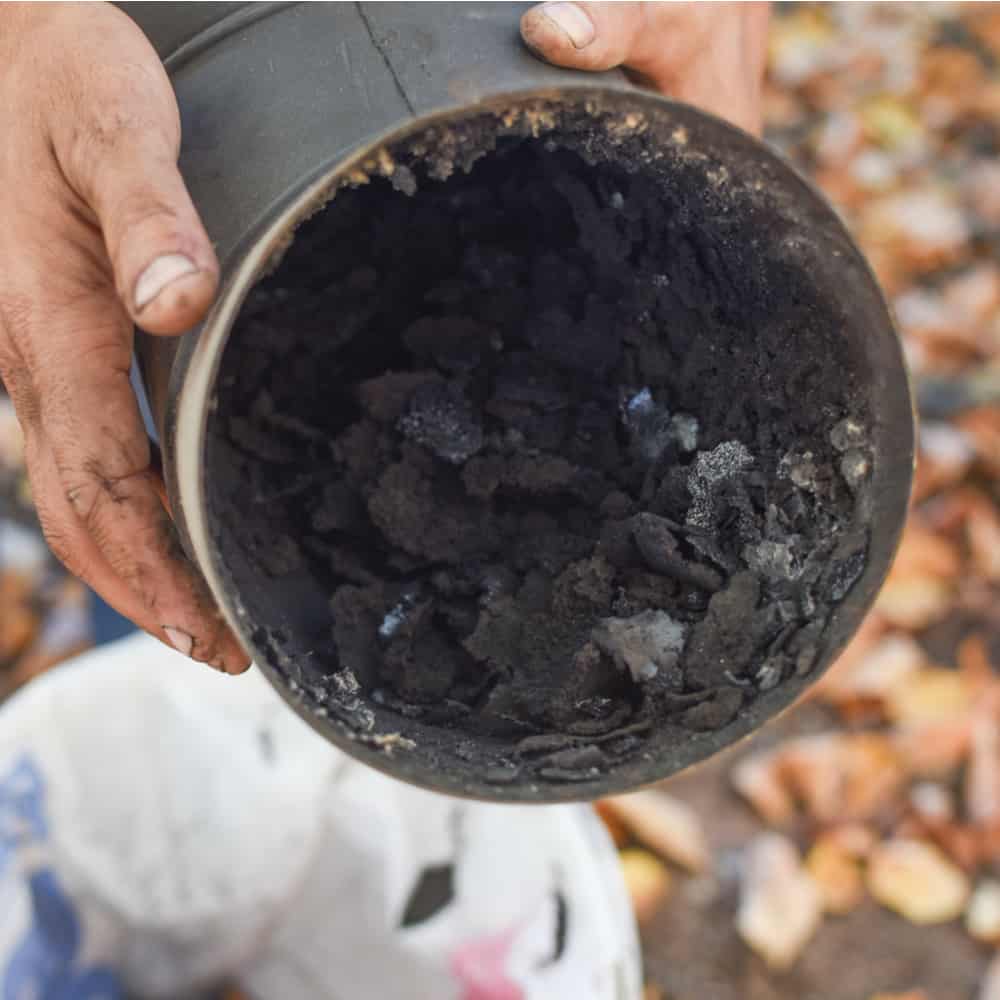 Chimney inspections are important for a number of reasons. Some of the most notable reasons include the following:
Reduced fire risk. A damaged and/or dirty chimney is a serious fire hazard. If the interior of the structure is coated with creosote or is blocked with debris, a single ember could spark a fire that could rapidly engulf your entire Suffolk County house in flames. Small cracks in the flue and damaged mortar can also lead to chimney fires. During an inspection, a Aquebogue, NY chimney sweep will identify any potential hazards so you can have them addressed.
Improved health. Fires produce carbon monoxide, a poisonous gas. As long as the chimney is functioning properly, the gas exhausts out of your Suffolk County home and isn't a problem; however, if the structure is damaged, blocked, or dirty, rather than exhausting out of our house, carbon monoxide can seep back inside, where you and your family will be exposed to it. A chimney inspection will reveal any issues that could lead to carbon monoxide poisoning.
Enhanced efficiency. A chimney supplies fires with the oxygen they need to burn. If the structure is dirty, blocked, or damaged, airflow will be reduced, and your fires won't burn as strongly as they should. A Aquebogue, NY chimney sweep will address any issues that could limit airflow so that you can enjoy stronger, warmer fires.
When do I need a chimney inspection?
According to the Chimney Safety Institute of America (CSIA), chimneys should be inspected by professional Aquebogue, NY chimney sweeps on a yearly basis. In some cases, however, more frequent inspections may be needed; for example, if you use your chimney regularly, if you live in a harsh climate, or if you have an older home.
What should I expect during a chimney inspection?
Typically, Aquebogue, NY chimney sweeps offer three different chimney inspection levels. An inspector will determine which level you need based on the condition of the structure and whether or not your Suffolk County home has experienced any big changes (construction, for example), or has been exposed to an act of nature (extreme weather or an earthquake, for instance).
The three levels are as follows:
Level 1. This is the standard chimney inspection level. A chimney sweep will examine the chimney, checking for any structural issues, blockages, or any other damage or concerns to the system. All readily accessible components will be inspected, such as the fireplace, firebox, flue, damper, opening, and exterior connections.
Level 2. When a change occurs within the chimney system – a change to the type of fuel (wood to gas or vice versa), or to the shape, for instance – a level 2 inspection will be needed. You'll also likely be required to have a level 2 chimney inspection if you're selling your Suffolk County house. All of the components that are covered in a level 1 chimney inspection will be covered, as well as the roof, attic, crawl space, and/or basement.
Level 3. If a suspected hazard exists and the Aquebogue, NY can't access the concealed components – the chimney crown, for example – you'll need a level 3 inspection. Specialized tools will be used to access these parts of the structure.
Schedule a Chimney Inspection for Your Suffolk County House Today!
If you have further questions or you're due for a chimney inspection, contact the company that Suffolk County homeowners trust most: Chimney King. Call 516-766-1666 to schedule an appointment with one of our Aquebogue, NY chimney sweeps today!
Useful links for Aquebogue, NY
Map of Aquebogue, NY
---
Here are some chimney-related links:
---
---
A chimney should be serviced once a year be a qualified professional.
If you don't clean your chimney regularly, soot will accumulate around the flue causing an inability to draw smoke upwards. The smoke will then be directed to your room leaving black soot on the walls, furniture, and carpeting.
A typical chimney sweep and inspection can take 45 minutes to an hour.
It's is a myth that chimney liners do not need sweeping. In fact, they are more susceptible to failure than some other types of lining so sweeping is essential.